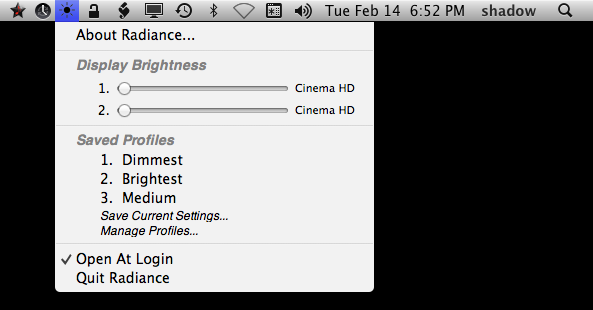 Are your brightness buttons hard to get to?  Does your control panel include brightness sliders for your monitors?  Radiance can help!
This simple application lives in your menu bar and gives you complete control.  It can even remember settings across all your monitors so you don't have to continually tinker to get the settings just right.  Radiance gives you control, and stays out of your way.
Just download the appropriate file below, unzip it, and place the resulting application in your Applications or Utilities folder.  When you double-click the application, the Radiance icon will appear on the upper right-hand side of your menu bar; click it to expose the menu, and select "Open At Login", and you're done!
This application is due for an update soon; it's mostly a hack right now, based on unpublished APIs.  Your mileage may vary for the moment, but expect a proper version soon!
UPDATE:  Radiance 1.2 is now available.  It should function on either Lion or Mountain Lion, and no longer uses the unpublished APIs.  Please let me know if you have problems with it.  I'm considering completely revamping the application, so 2.0 should be interesting…
Features:
Menu-based sliders for each compatible monitor
Save your settings in a named profile for later recall
Automatically reconfigures if monitors are attached or removed
System Requirements:
Intel x86-based iMac, Mac Pro, or MacBook
One or more displays that support software brightness adjustment.  Most laptops should work, as do Apple Cinema displays.
Mac OS X 10.5, 10.6, 10.7, or 10.8
Downloads: