Making It Easier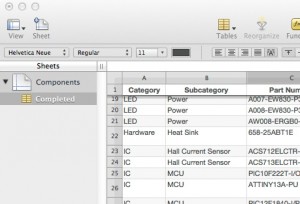 You're probably looking at this and thinking, "that would be such a pain!" — and you would be right, at least if all you had was the envelope template.  I recognized that early on, and put together a very simple solution to the problem:  mail merge.  Instead of manually filling in a bunch of envelopes, simply copy the relevant information from your order and paste it into a spreadsheet.
Mail merge then takes those and makes all your envelopes for you.
My spreadsheet (in Numbers, since Pages will merge directly from it) has 11 columns, starting with the category and ending with an "Alert Message" that I use to indicate obsolete/unobtainable parts and the like.  It takes ten minutes of my time when I get a large order to go through and fill it out, then I simply print the envelopes.
Then I just take stuff out of the box, put it in the envelopes, and file it away.
UPDATE:  You can get my templates here:  part_templates.zip
Final Thoughts
Overall, the system works beautifully.  I think I've mentioned it in passing before: the ability to find any part (or easily browse your collection) makes prototyping a much more pleasant experience.  Maybe you enjoy digging through your parts box to find that one gem you need, but I really don't.
I just want to build stuff!
You may, however, want to keep a good supply of anti-static foam hanging around for DIP IC storage.  I've so far taken to cutting up the tubes they ship in and using those, but it's a royal hassle.  I have foam on my list of things to stock up on for exactly that reason.
One possibility for enhancement in the future would be the inclusion of some kind of bar code (perhaps a QR-code) that makes reordering parts truly trivial.  I've thought about this relative to parts from Digi-Key:  I could just scan it, get taken to the product's web page, and enter a quantity.  Of course, I've no idea how to integrate that into my iWork-based workflow, and I'm not yet motivated enough to try.
Because, well, that way lays a complete inventory management system…
Hmmm….
S.