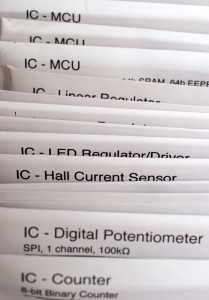 Proper storage of electronic parts is a pain in the neck, and I'm not the only one who thinks so.  Every serious hacker has to deal with this at some point, and the solutions are all over the map, ranging from a cardboard box to complex custom shelving units.  If you haven't dealt with this, you probably don't do much hardware hacking.
Since Hackaday published a request the other day for people to send in their methods, I thought I'd share mine.
Your mileage, of course, may vary.
The Goal
When I put my system together months ago, I knew it would be a pain to maintain if it wasn't done right.  In response, I came up with the following criteria that had to be met:
It had to be compact.  I live and hack in an environment where I don't have a lot of space to store stuff; the smaller and more compact, the better!
It had to be easy to maintain.  I'm notoriously lazy, and if it isn't easy, it'll only last for a week or two at the most.  Nobody wants to spend hours sorting parts!
It had to be presentable.  This is going to live in an area that visitors occasionally… visit, so I'd rather it not be an eyesore.
It had to be easy to navigate.  I hate digging for parts; it's annoying when I've got my head in something and a need a simple 100Ω resistor and have to go spelunking; parts should be easy to find.
Well, that sounds simple enough to accomplish, doesn't it?
The Basic Solution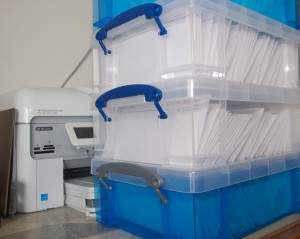 It all began with a box of #10 envelopes.  I don't keep thousands of a given part; quantities are in the tens if I'm lucky (though for surface mount it doesn't much matter since they're microscopic anyway!).  Most parts fit nicely in #10 envelopes in small quantities, and those few that don't can be accommodated in other ways.
Now add a set of stackable Really Useful Boxes, specifically designed to contain #10 envelopes.
These things are great!  They have a latching clear lid, and stack nicely right on top of each other, even if the lid is off.  Parts tend to be lightweight, so that's not a concern; stack 'em six or ten high and you still won't worry about the stack collapsing.
Both items are typically available at your local office supply store (I got mine at Staples, if memory serves, for only a few cents more than the manufacturer charges online).  And once you have them, all you have to do is find a good way to use it all properly.