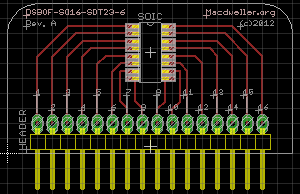 Arduino has its shields.  Raspberry Pi apparently now has Pi Plates.  BeagleBone has capes.
I've now decided that my toys shall be called Fins!  Hah!
But I digress.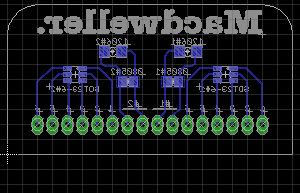 I have a couple of components that I added to my last order, and I want to tinker with them.  One is a 16-pin SOIC, and the other is in a tiny SOT-23-6 package.  I'll be glad when someone invents a solderless breadboard for surface-mount components — but until then, I need breakout boards.
There are any number of them on the market (Digi-Key and Sparkfun both have good selections, for example), but I've also been looking for a good excuse to try another board house.  Lo and behold, here it is!  I also decided that a double-sided breakout board might be a worthwhile thought; pick a side depending on which component you want to use.
The double-sided fin is the result.  On one side it breaks out a 16-pin SOIC, and on the other a pair of SOT-23-6's.  Since that left a few pins free, there's also room for a couple of smaller 0805 or 1206 components.  A DIP footprint made it a bit too crowded for my tastes, so I went with SIP.  Makes for a reasonably flexible toy, right?
In the interest of reviewing another board house, I've sent the design out to Gold Phoenix.  More on that when my boards arrive in ten days or so…
S.