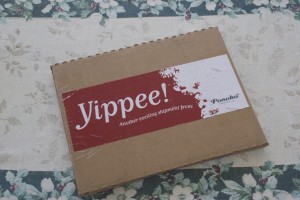 I submitted the enclosure for TuneConsole to Ponoko on March 13, and that only proves that their service is distressingly slow.  The acrylic panels arrived here on March 27, exactly two weeks later.  I was out of town for an interview that day as luck would have it, so the box sat around for a while before I finally got around to breaking it open and finishing the hardware portion of the project.
Read on to see how it turned out…
The General Idea
I was way too lazy to design a T-slot setup to hold the thing together, so instead I used a simpler press-fit design.  The basic box was generated using BoxMaker, which eliminated the majority of the hardest work.  I drew up the final design with Adobe Illustrator since I had it laying around (and I can't stand InkScape – or any other X11 app on the Mac, for that matter!).
Ponoko publishes templates for use with Illustrator, which made the process fairly painless.  I simply copied each individual piece out of the BoxMaker-generated PDF, rotated as necessary, and arranged them to fit inside a P1 template.  Once arranged, it was a simple matter to add the cutouts and the text.
Word to the wise:  paper test your design before sending it off!  No matter how accurate you think your design is, you're liable to find a problem in one place or another, even if only aesthetically.  In my case, it took six or seven revisions before I decided to be happy with it.
Those hours were well spent, though:  it was a much better plan than ordering a box that the board wouldn't fit in!