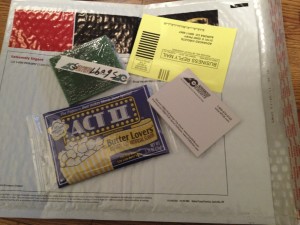 My boards arrived yesterday for the TuneConsole, as expected.  Not sure why the UPS guy sat outside the house for a good twenty minutes before delivering my package, but whatever.  UPS guys are weird.
I excitedly ripped into the package and found that the contents were exactly as expected.  An invoice, a handy little Advanced Circuits post-it pad, a survey form, a bag of popcorn, and five newly-minted printed circuit boards.
Whoa, wait a minute here.
Popcorn?!
Um, yeah.  More on the quality later once I've wrapped my head around Advanced Circuits' odd choice of packing materials…
S.